Soul-utions for Relationships Retreat (for singles or couples/friends)
May 28-June 3 on the beautiful island of Maui!
Relationships! We are all either wanting one, trying to improve one, or recovering from one. It is a core human need to love and be loved but no one has properly trained us in how to have relationships that are healthy, or how to remove ourselves from the ones that aren't.
Einstein said, "You can't solve problems from the same mindset that created them." Eve will show you how to access a different way of seeing things so that you can access your SOUL-utions and a sure path to conflict resolution, clarity, decision making —and joy!
(This is not a "couple's retreat" per se, but couples will gain tremendous value, as well individuals.)
RELATIONSHIPS ARE A SPIRITUAL PATH....a classroom for self-mastery! Our souls have all the qualities and perspectives we need to make relationships healthy.
This retreat will focus on creating a healthy relationship with your self, first and foremost, with others (loved ones, family, coworkers…) and with Spirit (whatever that means to you….). Through a beautiful mixture of group time, one on one sessions and exploration of the land, you will emerge from this retreat refreshed, and ready to move forward healthier, happier and better equipped to handle the events of life.
Not sure? Read our Testimonials!
Group retreats get you "more bang for your buck" as accommodations, on-island transportation, meals, group sessions and 2 private sessions are all included. Group is limited to 16 or less. (For late registrars, accommodations may be located near by rather than on site. Register early for most convenient housing.) Tuition and room are all single occupancy unless you bring a spouse or friend to share your room with, in which case there is a discount on the second booking.
Sometimes you just need to recharge, regroup, and recalibrate.
Take some time for your own growth, self-care and rejuvenation.
Could your life benefit from improving relationships with yourself, sweetheart, coworkers, family?
Do you want to deepen your spiritual life and gain new skills and tools for self-mastery?
Would you benefit from more balance and joy in your life?
Maybe you just need some FUN and RELAXATION?!!
Itinerary (Subject to slight changes)
Sunday May 28
3:00-5:00 Check in and get settled (you can get your own car or we can make arrangements to pick you up. (The airport is Kahului, and the code is OGG)
5:00-8:00 Meet and Greet Dinner and Orientation by fireside….Retreat participants  will be joined by many of the Heart Path Journey's Practitioner Team so you can learn more about their work and who will be doing private sessions and group sessions with us during the week.
Since many of you are on mainland time, you may want to get to bed early…
Monday, May 29 Every Relationship Begins with YOU
7:00 Coffee and Breakfast
8:00-10:00 Beach walk (and swim)
Begin your retreat with total emersion into the beauty of Maui's Tranquil waters. Movement, water, sunshine—a beautiful way to start the day.
10:00-11:00  Snacks and showers
11:00-1:00 Insight to Self with Eve
During this session we explore a deep understanding of the human spirit and the ego mind, and tools for accessing our authentic essence, inner wisdom and sense of self-esteem. It seems that sense self-esteem  diminishes over time such that by the time we are young adults many of us are essentially crippled by our negative self-talk, lack of confidence and the unconscious manipulative behaviors that ensue. This session will deepen your understanding and compassion for the human experience, provide a clear understanding of the ego's misguided attempts to protect us and teach you how to turn your self-esteem around. This session will both deepen your understanding of yourself, and anyone else you are in relationship with. This will begin-or strengthen- the journey of self-love and authenticity, which is the first ingredient to a harmonious, sustainable relationship.
1:00-2:00 Lunch
2:00-5:00 Relationship with Self and the Ripple Effect
Self-esteem is the foundation of all relationships. In this session you will explore your current state of esteem and assess which areas to focus on. Self-esteem is not something you seek outside of yourself, it is simply a matter of learning to reinterpret and retrain the self-talk of the ego mind. Take a deep look at where you are now, and where you want to be. This session will set you on the path. When you shift, the world around you shifts. Mastering the Ripple Effect will allow you to realize how powerful you are at transforming yourself, influencing others and making a difference.
Ripple Effect: Relationships—Insight—Purpose—Practice—Love—Enthusism
5:00-6:30 Walking the labyrinth as a Self-Awareness Practice
In order to change how you show up in the world, you must first know how you show up. Much akin to getting directions to your intended destination, you must first know where you are in order to get accurate guidance. The labyrinth is powerful mirror for looking at yourself and experimenting with different ways of being. The goal is to break through the rigidity of "this is just the way I am" to embrace the fluidity of the choice to be how you want to be, in a way that serves you the most.
6:30-7:30 Dinner
7:30-8:30 Sharing and wrapping up the day…..
Tuesday May 30
7:00-7:30 Snacks and coffee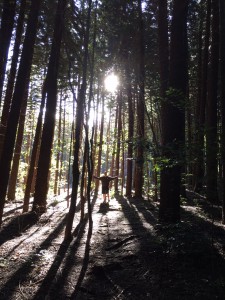 7:30-10:30 Hike (optional: Can have private session at this time or free time)
10:30-11:15 Shower and brunch
11:15-1:15  Six Essential Life Skills and Exploration of Beliefs
Powerful skills that should be a part of everyone's personal practice for accessing wisdom, making decisions and aligning our behavior with our goals. Whether applied to relationships, work or simply one's personal well-being, mastering these essential skills allow you to master yourself.
1:15-1:45 Snacks, break
1:45-3:45 Creating Healthy Relationships: The Ego Dance
Relationships, we are all either trying to get into one, get out of one, understand one, improve one or heal from one. Relationships often turn out to be ego battle ships instead of an authentic expression of love. In this session relationships dynamics will be explored along with an introduction to powerful and practical tools for transcending the ego, aligning your words, thoughts and actions with what you want to create. The information shared will deepen your insight into your own behavior and your partners and instill you with greater compassion and understanding.
4:00-6:00 Deeper into the Target/Guideposts
Get clear on your values, desires and chosen beliefs. These impact every aspect of your life and relationships, usually unconsciously. Let's bring them to light and choose those that serve us!
6:00-7:00 Dinner
7:00-8:30 Labyrinth Walk as a Practice of the Six Essential Life Skills
Wednesday May 31
7:00-8:00 Breakfast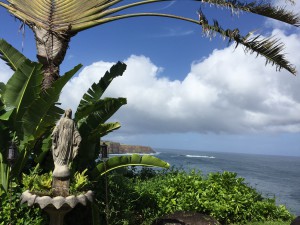 8:00-Noon Journey to Sacred Property for Awakening Your Aloha Meditation (waterfalls, flowers and ocean OH MY!)
Noon-1:30 Return home and lunch
1:30-3:30 Private Sessions with Practitioners (Two sessions are included in your tuition. You can choose from our list—massage, emotional release, gem comb meditation, intuitive reading…)
3:30-4:30 Free time to integrate
4:30-6:30 The EROS Equation: A deepening of the Ego Dance, offering additional powerful relationship skills for transforming your relationship-and your life-into one of true joy, love and satisfaction. In this session you will learn the powerful secrets of The Eros Equation and discover your power for creating healthy relationships with yourself and others. The EROS equation offers both practical understanding of what goes wrong in a relationship and immediate application of how to repair it.
6:30-7:30 Dinner
7:30-8:30 Guest Practitioner TBD
Thursday June 1
7:00 Coffee and Breakfast
8:00-10:00 Beach walk (and swim)
10:00-11:00  Snacks and showers
11:00-1:00 Transforming Anger into Understanding
Anger is a challenging part of every relationship, but when lacking in understanding, can also be its downfall. This session will deepen your understanding of the emotions underlying anger, and how to transcend the ego to realign your words, thoughts and actions with the harmonious relationships that you are trying to create. While anger and fear plague us all, can destroy relationships or stop them from happening, You will learn how to reframe anger and fear, embrace them and learn to see them as the guideposts to what you treasure.
1:00-1:30 Break
1:30-3:30 Making Peace with the Past
In this session you will learn how to disempower events and empower your ability to respond to events. Once you have a complete understanding of how to do this, we will have you walk through a timeline of your life discovering the blessings, lessons, gifts and value of the events of your life. You will also be empowered to boldly step into your future fully equipped to respond, rather than react, to the events of your life.
Friday June 2
7:00-8:00 Breakfast
8:00-Noon Outing on the land
Noon -1:00
1:00-2:00 Picnic Lunch
3:00-6:00 Flower Mandala Creation
Mandalas are circular designs which represent the wholeness of life & remind us all of our place in the intricately woven web of existence. Creating colorful flower mandalas is a meditative act which offers the opportunity to slow down, shift analytical mind into creative awareness, and access the healing beauty & wisdom of Nature. This is a beautiful way to tie the entire retreat experience together, individually and as a group and see how our unique contribution adds to the whole… The power of this creative endeavor will surprise you.
 6:00-7:00 Dinner
7:00 Taking the Transformation Home
Eve will assist you in connecting the dots between all of your sessions to ensure you have a deep understanding of your experience, a practice, skills and tools for taking powerful and positive next steps on your journey through life. The process of change will be explained so that you deeply understand how to step back onto your chosen path when you have seemingly fallen (or been pushed) off. You will depart fully empowered to implement the experiences, insights and lessons from your retreat into your everyday life. The integration session is designed to assist you in pulling all the pieces of your retreat together and ensuring that you have a clear practice for maintaining your strength and balance when you get home.
Saturday June 3
8:30-9:30 Group Meditation in The Sacred Garden
9:30-10:00 Break
10:00-11:00 Closing Session and check out
You will depart Sunday morning rejuvenated and ready for the next your next steps on your Heart Path! (If you would like to come early, or stay longer, we have additional accommodations (as do our neighbors) and may be able to assist you!.
Limited to 8 Single-occupants (and their guests)
BOOK BY March 1 and receive a FREE MASSAGE as part of the package!
email info@sacredmauiretreats.com or call 808-243-PATH (7284).
Included in the price of $3495 (plus tax) are:
• Single occupancy accommodations for 6 nights,
• Delicious organic meals from dinner on the 7h through breakfast on the 13st,
• Retreat sessions daily as well as daily guided outings (hikes, beach trips, etc) with Eve Hogan and guest presenters
• Two private sessions with your pick of our awesome practitioners. Get a massage and an intuitive reading, or rewire your brain with Emotional Freedom Technique and a Clarity Coaching Session. We have several sessions to choose from.
We will have on-island transportation to off site events, and airport pick up, however you are also welcome to get a rental car. Transportation to Maui is not included.
This pricing is for Single Occupancy with a limit of 8 people in private rooms. A $500 discount will be offered for double occupancy IF YOU BRING THE SECOND PERSON (you can share the discount or apply it to one or the other.) The rooms all have space for an additional guest, so bring your sweetheart, friend, sibling, mom, dad….
To book or get more information send an inquiry or call 808-243-7284 (PATH)