Here is a list of many of the sessions we offer—whether you are an individual, couple, family, organization or retreat group. We have handpicked the best Practitioners Maui has to offer, providing sessions in a myriad of modalities. If you were hoping for something you don't see here, ask us!
Many of the sessions listed below could be listed in more than one category because the concepts are holistic and address multiple areas of the being—body, mind, spirit, emotions, relationships, wellness, healing,…However, for simplicity they are only listed once.
Many of our sessions/practitioners are also available via Skype or telephone…so let us know if that is preferred.
Our sessions generally run between $195-350 a session depending on topic, length of time and the practitioner.
808-243-PATH (7284) Call to begin the developing a customized retreat just for you!
Whether you seek a vacation with meaning, an intensive retreat for transformation or  a la carte sessions, we will customize your personal growth experience with Eve Eschner Hogan and Maui's Best Practitioners.
Click here to send us your inquiry or call 808-243-PATH (7284)
We plan our retreats to begin with an Orientation and end with Integration—what you fill up the middle with is entirely up to you! You are welcome to mix and match from the sessions below, or even just opt for one or two a la carte sessions. "Personalized Retreat" means it is all about YOU!
As you scroll down the page, you see that the Session Descriptions have been divided up by: Body, Mind, Love, Emotions, Intuitive, Spirit, Creativity, Wellness, Training and "Only on Maui". While several sessions could be placed in more than one category like "Love" and "Emotions," we purposely left them only in one category for the sake of ease. Please note that all sessions are integrated, rather than isolated topics.
Orientation—In this session you will be introduced to the retreat experience, explained the process of personal growth and change, guided to set your intentions and to begin the process of letting go of that which is no longer serving you. You will be introduced to the personal growth principles that will quicken your understanding and deepen your experience.
You will be introduced to the labyrinth and invited to take a Labyrinth Walk for self-discovery and self- mastery.
Body — Wellness begins with movement, time in nature, fresh air and beauty.
Morning Beach Walk—A practitioner-guided walk along one of Maui's most beautiful beaches! A beautiful way to get oriented to Maui and your retreat, while greeting the day and being caressed by the soft saltwater breezes of Maui's beautiful North Shore. Time for self-guided walks on your own can also be added to your itinerary.
Creation Ceremony —This session gets you out on the land into what many consider to be the Heart Chakra of the World. Haleakala stands 10,000 feet high in the midst of the Pacific Ocean offering unbeatable vistas and a haunting silence that stirs your soul. Pele, Hawaii's Fire Goddess and the one responsible for the creation of the islands through her volcanic activity, is honored atop Haleakala, the house of the sun and a dormant volcano. Whether you opt to hike or simply meditate in nature, you will leave this session with a deeper sense of connection to all that is. Opportunities range from beginner to advanced fitness.
Spirit Walks—an awesome combination of yoga, hiking, stretching and awareness in a beautiful Maui forest.
Turtle Longevity QiGong
—Qi Gong translates to "energy work" or "energy exercise." It is closely related to the concept and practice of Tai Chi which means a balance of opposites.  Whereas Tai Chi often has an external, martial application, qi gong has an internal, medical focus bringing harmony and balance to the body, mind and soul.  In Chinese traditions, nature is always observed because our external landscape can teach us a great deal about our internal one. What's going on "out there" is a macrocosm of what's going on "in here." So many forms include animal mimicry, and engaging with the energy of the cosmos and the earth using simple movements, visualizations and contemplations.
Combine Hiking and SUP—go to places the average visitor doesn't get to see. A little hiking, a little paddling, a lot of adventure!
Pilates On the Beach — pilates is a system of exercises designed to improve physical strength, flexibility, and posture, and enhance mental awareness. Not to mention, it gives you an awesome physique!
Adventures in Awareness
—Guided nature experiences and beach walks, combined with spiritual awareness. Nature is an amazing teacher. As a practitioner guided hike, available for any fitness level, this session will take you on a journey through the beautiful and varied rain forest of Maui. But perhaps more importantly, you will be guided to heighten your awareness of your own senses, and discover the depth of the present moment—something you can access anytime, anywhere.
Tropical Adventure Fitness!—Experience a Coconut workout—coconuts are natural weights and we use them in this fitness routine! Get strong and fit while experiencing the joys and beauty of Maui!
Go for Trail Run! —Our passionate practitioner will lead you through the jungle on a trail run that is fun, beautiful and grounding.
Stand Up Paddling Fitness—Experience what it is like to "walk on water" with our adventure fitness practitioner. Peer into the crystal clear Maui waters and know "you're not in Kansas anymore!" Not only is this an awesome workout but it is a blast!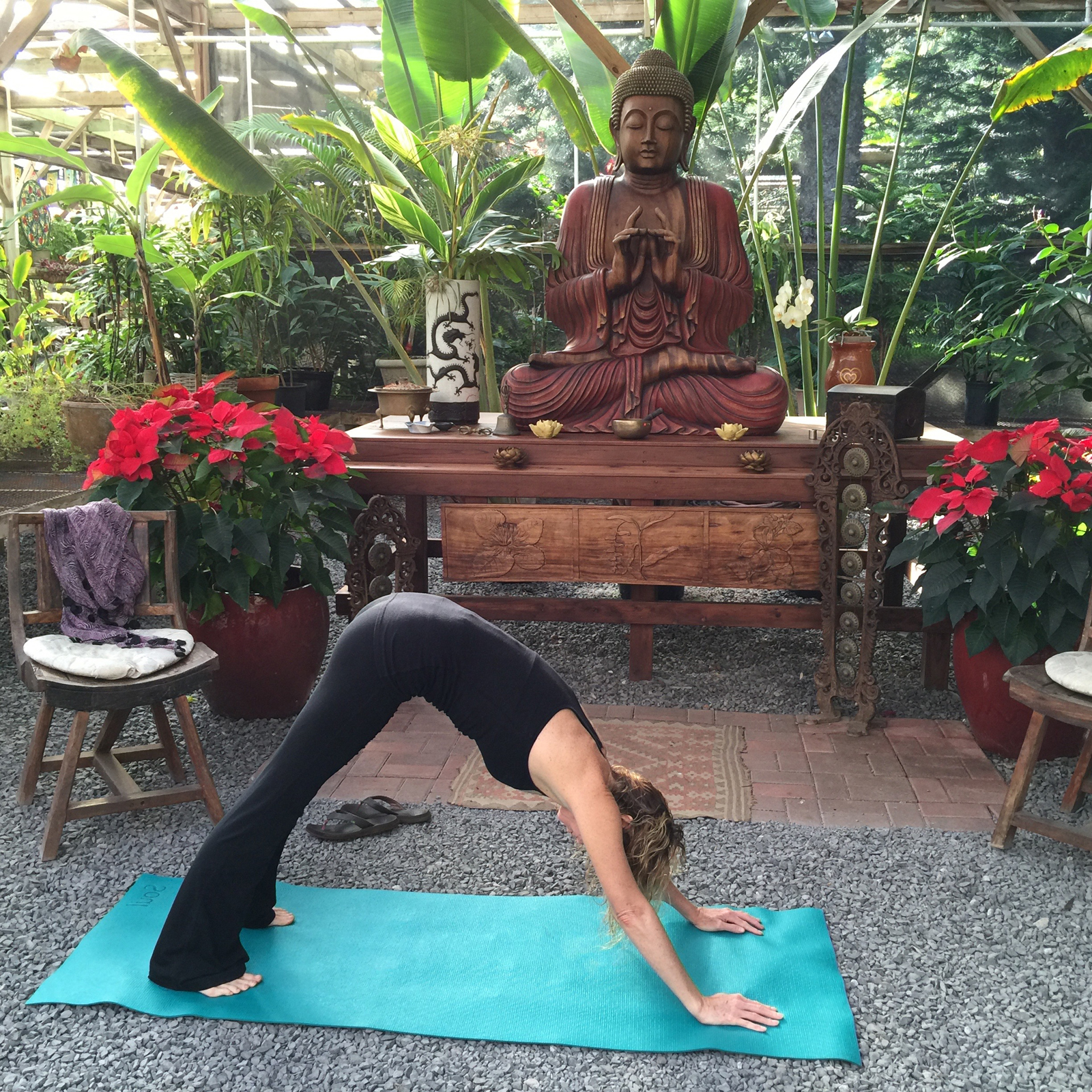 Five Tibetan Rites— a form of yoga that involves just five postures that are known to activate all of the chakras, strengthen your core, and are believed to be the "fountain of youth."
Body-Mind-Spirit Yoga—Tune into your breath and bodily awareness as you are guided through the ancient healing poses of yoga.  Whether you've practiced for 30 years or never done yoga in your life, and whether you are seeking a challenge or prefer a gentle restorative session, classes are tailored to suit your individual needs.  The use of props, adjustments and modifications of poses are incorporated as needed to optimize your experience of yoga, or complete union with your highest Self.  We specialize in private yoga sessions where you get personalized assistance with your specific needs, however, if you prefer a group class we can assist you in finding the perfect one to attend.
Transformative Yoga 
Our bodies create holding patterns due to stress, trauma, hidden emotions, and/or unconscious habits.  Transformative yoga is an opportunity to notice where we have pain, blockages and tension, while receiving the support needed to move toward an optimally functioning body, a harmonious mind, and a greater spiritual connection. This one-on-one session can accommodate anyone at any level of yoga practice using props and modifications as needed.  When approached in this safe, intentional way, yoga is a powerful path to healing through self-awareness, conscious breathing and emotional release. 
Yoga Therapy —This yoga session is designed for people struggling with injury and/or chronic pain.  We work therapeutically to clear injury and pain from the body by using revolutionary alignment techniques, breath work and by rediscovering the natural way your body wants to move.  This work may be done on a yoga mat, massage table or both and may also include supported, restorative postures.
Send us an inquiry or
Call 808-243-7284 (PATH)
Align & Flow Yoga Classes — This class teaches the practice of embodying the principles and philosophy of yoga with clear alignment and fluid movement. How can we use the physical practice of asana to awaken and move subtle energy within the body? How do we infuse our physical body at every level with a deep awareness of our inner being? Align & Flow Yoga combines clear, specific, therapeutic alignment instruction with the natural way your body wants to breathe and move. Each class is an opportunity to discover the inner teacher and the wellspring of wisdom and Love in your own heart.
Moontime Yoga (TM) —Moontime Yoga TM is a practice for women in all stages and phases of reproduction from the Maiden and the Mother to the Wild Woman and the Crone. It is an invitation to practice yoga in a soft feminine way that honors your body as a temple for the cycle of life, death and rebirth.  This practice is designed as a journey inside connecting to the wisdom and love of the feminine heart and womb.  Instruction for several major acupressure points to help relieve imbalances associated with menstruation is also included along with essential oil therapy.
Healing — There are many forms of wellness and we aim to cover a wide variety. These sessions are healing for body, mind and spirit.
Gemcomb Healing Meditations, Chakra Balancing and Activation Gemcombs are combs made of various semi-precious gemstones and crystals. Placed on the body and used to comb the energy field around the body, they assist the process of transformation in both subtle and powerful ways. Here they are combined with relaxation, meditation, energy medicine and intuitive insight to restore balance to your body, mind and spirit. 
 Our bodies come equipped with energy centers called Chakras—and when they are aligned and balanced they hum and vibrate in unison supporting our wellness—both physically and emotionally. When they get out of sync, things can get more challenging. This session is designed to awaken, open, activate, balance and align the chakras to work in perfect harmony.
Ayurvedic Pulse Session— Reading the pulse provides a comprehensive view into your inner world that can reveal physical, emotional, mental, and spiritual health patterns.  Through pulse assessment, we can determine your Ayurvedic Constitution, the combination of Vata (air/space), Pitta (fire/water), and Kapha (water/earth) that is uniquely your own.  The pulse can also illuminate current states of balance and imbalance in the various organs, chakras, and body systems.  The result is a deeper understanding of your needs, tendencies, and strengths and some recommendations to support you in living a more vibrant, fulfilling, and beautiful life inside and out.
Cranial Sacral Balancing  and Polarity Therapy—
Cranial Sacral Balancing addresses the cerebral spinal fluid which moves up and down the spine in the dural tube and bathes all the cells in our body. By releasing constrictions in the fascia along the spine, and by creating a still point in which the rhythm stops and potentizes, we make room for the full wave of cerebral spinal fluid to return. The bones of the cranium are meant to contract and expand as the sacrum gently pulses the fluid up and down the spine. When this flow is optimized, a greater sense of health and well being emerges.
Polarity therapy seeks to balance the energies of ether, air, fire, water and earth as they emerge in our physical bodies. Using triad relationships, long line currents and spiral currents, we can identify blocked energies and stimulate release. This restores the inherent rhythms of energy and can leave you feeling uplifted and balanced. This bodywork is done on a massage table and can be blended with massage and or cranial sacral balancing. Polarity yoga includes simple energy exercises which you can do on your own to maintain well being. As part of your session, we can explore which exercises might be best for you.
Colonic Cleanse
 Give your body a little help in releasing, cleansing and energizing! This process goes hand in hand with the juice cleanse.
Hawaiian Healing Massage — 
Intuitive massage designed to release tension and emotions held in your body and leave you feeling uplifted and relaxed. Our practitioners utilize a variety of modalities to thoroughly meet your needs. This session will relax you, pamper you and guide you…
Acupuncture, Tuina Massage and 
Crystal Bowl Healing —Our master practitioners utilize a powerful combination of Oriental Medicine modalities, including Acupuncture, Chinese Herbs, Tuina Massage, Shiatsu, Foot Reflexology, Medical Qigong, Reiki and Nutrition, as well as crystal bowls, drumming and aromatherapy. A warrior for wellness, our practitioner will find the emotions and experiences hidden in your body and help you make them more fluid, freeing you from pain—physical and emotional.  Crystal Bowl Sound Medicine can be added to a session; the vibration of each serves to clean, align and awaken the healing capabilities of the body's healing capability.
Watsu® and Under Waterdance— Transformational Aquatic Therapy Healing Expansion of the Mind, Body and Spirt! Submerged in warm water that is the same temperature as your skin, these highly specialized aquatic treatments help to heal injuries, illness, stress, sleeping issues, muscle tension, chronic pain, trauma, and much more.   The water movements provide stretching, massage, deep energy work, hydrostatic pressure, and the healing "medicine" of the element of water. Water dance is a modality where the practitioner takes you underwater with a nose clip and incorporates elements of massage, Stretching, Aikido, fun & freeing movements, rolls, somersaults, inversions, dance, and much more.  It's nothing like you have ever experienced! 
Flower Mandala Experiences — Offered for groups or individuals, Mandalas are circular designs which represent the wholeness of life & remind us all of our place in the intricately woven web of existence. Creating colorful flower mandalas is a meditative act which offers the opportunity to slow down, shift analytical mind into creative awareness, and access the healing beauty & wisdom of Nature.
Zen Shiatsu —Zen Shiatsu is a comprehensive, holistic therapy that uses the meridian system of acupuncture without the need for needles. The physical body as well as the psychological and emotional bodies receive the benefits, revealing the inner harmony of the body-mind. This work is done over clothes, without oil, using stretching and compression techniques with palms, thumbs, elbows and knees when appropriate. Each session can vary from gentle and nourishing to strong and clarifying. Each session is an opportunity to connect directly to the harmonious flow of energy in your heart and in the heart of everything.
Reiki and Crystal Healing
 Reiki is a form of energy healing that helps to bring an individual into balance, into ones own natural state of wellness. That, combined with the power of nature's most beautiful creations amplifying the energy, crystals, an powerful energy medicine serves to get the body back into balance so that it can heal itself. Through the use of crystals and reiki (powerful healing energy of the hands) you will be treated to several relaxing and healing modalities. Reiki is also available by itself as a transference of therapeutic energy that soothes, calms and brings a sense of peace on all levels —physical, emotional, mental and spiritual.
Essential Oils and Aromatherapy — Uplift and Balance Mind & Body! This session is a wonderful primer for anyone waiting to integrate oils into their everyday life.  Aromatherapy uses absolutely PURE  plant based essential oils to treat physical, emotional, mental and spiritual ailments. We will explore 12 oils in depth, from their origins to their everyday uses for regenerating, releasing, relaxing and rejuvenating. This can be both a treatment-based and education-based session, teaching you to utilize essential oils at home for their on-going and long lasting effects in your life. Your practitioner will customize the theme to meet any specific needs, such as oils for Immune and Respiratory & Emotional support, oils for Musculoskeletal Pain, oils for Grounding, or any theme requested. Client will leave with an informative aromatherapy book, essential oil samples, a customized roll on & a spritzer for immediate use.
Flower Essence Treatments — Every plant has a specific imprint or energy pattern which can be utilized for healing and balance. Working with flower essence remedies helps to release old blocks & outdated belief systems, and to realign with a healthy state of well-being. Flower Essence Treatments can be enhanced & deepened with reiki & sound healing.
Mind — Understanding starts with Education. New perspectives, new insights and new tools contribute to a new reality .
Clarity Coaching — Retreats are often sought at times of transition while seeking clarity, this session assists in making decisions and mapping out the next steps of your spiritual journey so that you leave equipped with a practice you can implement daily. Through guided imagery and life coaching, you will be guided through a deep process of self-discovery and offered additional tools for self-healing and decision making. You will depart your session with a deeper sense of clarity and the ability to apply that clarity to any circumstances that come up.
The Guideposts — Clarify your vision, identify your soul purpose, identify your personal values and code of ethics, look at your personal "branding," explore symbols that represent you. A fun intensive, deepening your look within, so that you gain clarity and direction on your path.
Insight to Self — During this session we explore a deep understanding of the human spirit and the ego mind, and tools for accessing our authentic essence, inner wisdom and sense of self-esteem. It seems that sense self-esteem  diminishes over time such that by the time we are young adults many of us are essentially crippled by our negative self-talk, lack of confidence and the unconscious manipulative behaviors that ensue. This session will deepen your understanding and compassion for the human experience, provide a clear understanding of the ego's misguided attempts to protect us and teach you how to turn your self-esteem around. This session will both deepen your understanding of yourself, and anyone else you are in relationship with. This will begin-or strengthen- the journey of self-love and authenticity, which is the first ingredient to a harmonious, sustainable relationship.
Living Your Best Life — A holistic approach to life keeps us balanced and whole. This session focuses on the health of the Spiritual, Emotional, and Physical body. You will explore your daily habits of mind and health in order to access areas for improvement. You will begin to see new ways to nourish yourself. We become what we practice, what we eat and what we think. Learning tools can help us to live our healthiest, happiest, most energetic life..
Six Essential Life Skills
 — Powerful skills that should be a part of everyone's personal practice for accessing wisdom, making decisions and aligning our behavior with our goals. Whether applied to relationships, work or simply one's personal well-being, mastering these essential skills allow you to master yourself.
Nutrition & Lifestyle Consultations — Take an honest inventory of your diet and ways of daily living that create your overall health and well-being.  Learn effective strategies for transitioning away from pain and suffering while moving toward joy, ease, and lasting change in how you eat, sleep and manage stress in your life.
Spirit — No life is devoid of spiritual experience, only of spiritual awareness. While not religious, all sessions will deepen your spirituality, your awareness, your mindfulness, your knowing.
Heart Path Meditation — Meditation is not a way of making the mind quiet, it is a way of entering the quiet that is already there. In this session, you will learn, easy to understand techniques that assist you in accessing your inner wisdom, intuition, and creativity. This ability allows you to make better choices, access peace and strength even in the midst of chaos, and align with your authenticity.
Guided Meditations — Make great strides toward personal empowerment and radiant health using imagination and concentration to liberate you from ineffective patterns and unconscious behaviors as you are guided through a meditation for physical, mental, emotional and energetic clearing, while learning to work with the chakras, aura, and moving stuck energy.
Awakening Your Aloha

In the opening sessions, you will deepen your understanding of the difference between the ego-mind and the spirit…in the session you will experientially be introduced to your higher self and develop a practice for accessing that part of your being. Aloha is commonly taught as meaning "hello," "goodbye" and "love," however its even deeper meaning is the sharing of the "Ha" or the breath of life—our Mana or Spirit with others. Our practitioners have a large tool belt to share with you and will guide you into the loving arms of your own soul so that you can feel who you really are. This knowing will guide you back to your own Spirit's wisdom time and time again.
Sensory Deprivation Floating—the ultimate relaxation and self-exploration tool. Floating is an individual experience in your own private room. Once the tank door is closed it becomes light- and sound-proof. 90% of the central nervous system's workload is related to gravity, light, sound, and touch. Without sensory input, the left brain goes to sleep, and the right brain is activated; thus increasing the ability to visualize, create, dream, imagine, and problem solve. Our tank is fully ventilated and sanitized after each use — using a rigorous filtration system, concentrated hydrogen peroxide, and UV light. Relax, Let Go and Enjoy!
Deep into the Labyrinth — While many understand the labyrinth as a walking mediation, the labyrinth is actually a rich field of metaphor for deeply understanding ourselves. The way of the winding path offers a mirror into which we can see ourselves and a blue-print for understanding the human spirit. Through a mix of information, a deepening perspective, the labyrinth walk and journaling processes, this promises to be a powerful experience.
Discovery Meditation—Discovery Meditation is an inclusive approach to mediation that integrates the practices from both mindfulness (insight) meditation and creative (visualization) meditation practices. Class consists of a brief discussion followed by a guided practice.
Love — Relationships impact every aspect of our lives and yet we weren't given the skills and tools to master them—until now.
Creating Powerful Relationships: The Ego Dance— Relationships, we are all either trying to get into one, get out of one, understand one, improve one or heal from one. Relationships often turn out to be ego battle ships instead of an authentic expression of love. In this session relationships dynamics will be explored along with an introduction to powerful and practical tools for transcending the ego, aligning your words, thoughts and actions with what you want to create. The information shared will deepen your insight into your own behavior and your partners and instill you with greater compassion and understanding
Relationship with Self—Self-esteem is the foundation of all relationships. In this session you will explore your current state of esteem and assess which areas to focus on. Self-esteem is not something you seek outside of yourself, it is simply a matter of learning to reinterpret and retrain the self-talk of the ego mind. Take a deep look at where you are now, and where you want to be. This session will set you on the path.
Creating Powerful Relationships: The EROS Equation
 —A deepening of the Ego Dance, offering additional powerful relationship skills for transforming your relationship-and your life-into one of true joy, love and satisfaction. In this session you will learn the powerful secrets of The Eros Equation and discover your power for creating healthy relationships with yourself and others. The EROS equation offers both practical understanding of what goes wrong in a relationship and immediate application of how to repair it.
Intellectual Foreplay —Making the right choice in partners and being the right choice as partners. 
We tend to pick our partners by "looks good and feels good" without taking the time to find out if they are good. We even ask more questions about a car or a house than we do about a partner or potential partner. This session will guide you through the art of values clarification, identifying your non-negotiables and learning how to ask the critical questions in the realm of love.
Virtual Foreplay — Online dating has taken the world by storm, but since it is completely backwards than face to face dating, it can take a little guidance to get it right. Discover how you can use online dating as a powerful tool for personal and spiritual growth and how you may just find your mate while you are at it! Our practitioner will help you to evaluate your online profile and make slight changes that bring about bigger and better results.
How to Love Your Marriage (or Relationship)
 —While finding a spouse is one thing, keeping one is another. This session will share tools, a perspective, exercises and skills for giving your marriage the love and joy it deserves to ensure it is strong and able to thrive.
Relationship Skills for Singles —You don't have to be in a relationship to gain new skills and tools. In fact, transitional stages are the best time for learning, growing and breaking patterns that haven't served you. Whether you a dating conventionally, dating online or not dating at all, Eve can guide you through the process of making better choices in relationships and understanding the dynamics of how they work with her Intellectual Foreplay and Virtual Foreplay material. Eve has served as a relationship adviser for over ten years for magazines, newspapers and web sites and can teach you how to help yourself.
Sacred Loving /Sacred sexuality—Sacred Loving coaching for couples (or individuals) provides clear and easy-to-do exercises to bring your love life to the next level of happiness beyond your expectations. Spending some time with an expert in the field of intimate relating will give you the insights and tools to take home and continue the journey toward the best sex ever, again and again. This is indeed possible, but these exercises and practices need to be tailored to your specific needs and the insights need to be well-timed to address exactly the next steps of opening for your relationship. There is no one size fits all solution because each couple comes with their own unique dynamic. Sacred Loving Coaching sessions for couples serve as an inspiration and support system for you and your partner to explore new ways of relating, to find deeper intimacy and to increase your sexual pleasure and fulfillment.
Whether you are on a honeymoon and want to make it extra special, whether you are in need of sexual healing and don't know how to do it by yourself, whether you have been married for a long time and need new ideas to keep your love life vital or you are at a cross roads where a turn around in your relationship is essential, these sessions will provide a fun and playful way to expand your repertoire and become a better lover to yourself and your partner.
Emotions — Healing the past and mastery over our thoughts in the present offers us a brighter, happier future.
Healing of Your Heart —This session is a practical, yet deep and intuitive process. Through dialogue, meditative awareness and intuitive reading, Our practitioner guides you to into a direct experience of your Essential Nature. Once you access and open the channel into it's joy, love and strength it can be felt moving into your system and bringing healing to every part of you that is ready for change. Once your awareness of your inner terrain and connection to your Spirit has grown, the scales are tipped and you become the loving presence that you have been seeking, and the love of your heart begins to heal past pains in your heart.
Healing the Inner Child (or Teenager)
 —We all have either woundings, misunderstandings or moments from our childhood or teenage years that need a little "reparenting" or reframing so we can grow through it rather than suffer from it eternally. Healing the relationship you have with your own inner child and inner teenager will free you to have more meaningful and healthy relationships with the children and teens outside of you as well.
Emotional Freedom—Through combined gifts and modalities of intuitive guidance, wisdom and Emotional Freedom Technique, our practitioner will help you rewire the way you think and what you attract. Adopt new ways of thinking, seeing yourself and co-creating your life.
Transforming Anger into Understanding
 and Discovering the Beauty of Fear —Anger is a challenging part of every relationship, but when lacking in understanding, can also be its downfall. This session will deepen your understanding of the emotions underlying anger, and how to transcend the ego to realign your words, thoughts and actions with the harmonious relationships that you are trying to create. While anger and fear plague us all, can destroy relationships or stop them from happening, You will learn how to reframe anger and fear, embrace them and learn to see them as the guideposts to what you treasure.
Making Peace with the Past
 —In this session you will learn how to disempower events and empower your ability to respond to events. Once you have a complete understanding of how to do this, we will have you walk through a timeline of your life discovering the blessings, lessons, gifts and value of the events of your life. You will also be empowered to boldly step into your future fully equipped to respond, rather than react, to the events of your life.
Sound Healing for Emotional Transformation
 —Extremely dynamic and instantaneously effective method of using sacred sound to move "stuck" emotional energy and transform it to a free flowing, healthy condition. Whether using crystal bowls, drums, didgeridoo or voice toning, our practitioners are sure to strum your soul.
Releasing Issues in Your Tissues — Get deep, direct access to your specific issues. Our approach bypasses your mind's resistance to go into the calm eye of your emotional hurricane – where healing happens. You only need a willingness to explore within. Often 1-2 sessions give dramatic results. This work is a sophisticated blend of many bodywork and healing modalities, intuitively orchestrated. Each session is unique.
Let Go and Be Free! Emotional, Spiritual, Physical Release utilizing a fascinating mix of intuitive skills, acupressure, acupuncture, massage and breath work. This session is for those who are ready to go through the eye of the needle to come out the other side lighter and more free. Get for releasing stored grief and other stuck emotions.
Intuitive — Your guides are always trying to help you;  our intuitive practitioners will teach you how to listen.
For more information on our intuitive and psychic readings/guidance go to IntuitiveMaui.com!
Intuitive Guidance and Energy Clearing
 — Receive direct guidance from your own guides and discover what it is you need to know. Our practitioner can access a council of guides, (hers and your own) and deliver their message to you to assist you in making sense of whatever is happening in your life and to make new choices if needed. Remove the veils between you and your guardians! Our practitioner follows the reading with energy work to clear any obstacles you may have that cause you to get stuck, assisting you in fully stepping forward on your own Heart Path with greater clarity and insight.
Journaling with your Higher Self — We all have intuition and are all receiving guidance all the time. However, it is easy to dismiss as "just a thought." This session will guide you to bypass the negativity and doubt of the ego-mind to access your inner wisdom and guidance in writing! Ask questions, get the answers in your journal directly from the source—your own soul.
Dreamplay—Learn enriching ways of connecting with your dreams of both night and day. Through dream and divination games, develop your powers of insight and action from the messages your dreams are speaking to you. Cultivate your powers of creation by learning the art of the moment of power; what is often called synchronicity.
Empowerment Tools and Psychic Reading 
— A little guidance from the angels is always appreciated! Come to this session equipped with 10 handwritten questions of which you would like an intuitive exploration. You will receive an intuitive reading, answering any questions that you may have about your life, followed by offering empowerment tools and healing techniques to add to your personal tool belt and be well prepared for your next steps.
Medical Intuitive Reading—Over lifetimes, various types of trauma and energy can become stagnant within our bodies, causing illness, pain, or emotional imbalance. The gift of 'Spiritual Sight' allows our practitioner to 'see' into your body below the surface of the skin using Divine Energy channeled through her super-sensitized hands. First, you will receive a cleansing scan of your energy field helping to balance your energy centers. Next, she will perform something similar to an 'x-ray scan' of your body using only her hands in a no-touch manner. This allows her to view a small section of your body at a time from various perspectives such as the musculature, the bones, the organs, the etc. As she peers inside your body, dis-ease and undesirable configurations may be detected and released. This work often involves the assistance of a divine Ascended Master.
Deepen your Own Intuition! —Learn the art of energy meditation to develop your own personal energy practice to ground, clear, heal, manifest and more. The art of visualization is supercharged with these techniques that open the ways for deeper communion with yourself and the world. In this process you will both receive and give yourself intuitive readings and healing, and explore many aspects of energy work, human interaction and creativity.
Secrets of Co-Creation — We've all heard of "manifesting" but that conjures up the concept that we get to order Spirit around to follow our bidding. We have that a little backwards; our job is to learn to listen to Spirit's bidding and follow the guidance. This unlocks the door to magical Co-creation. This session will reveal the steps.
Creativity — Self-discovery through creative expression opens our hearts, minds and souls allowing us to understand, heal and make powerful new decisions.
Creative Self-Discovery and Expression through Journal Writing
 —Through a process of writing and drawing with the non-dominant hand, you will be guided to explore several different aspects of yourself and improving your access to your higher self where intuition, creativity, and understanding are sourced. This bypasses the ego mind and allows you to heal old wounds. We also offer excellent creative journalling sessions, blasting through "writer's block," and guiding you to discover yourself and express yourself through writing and drawing.
Tattoo your Clothes with Embroidery—This is a simple, fun and addicting lost art of wearing your heART on your sleeve. Colorful, expressive, easy and fun….rediscover the simplistic joy of stitching….
Photography Expedition—Our professional photographers can guide you on how to see multiple right answers to a problem by masterfully changing the way you see. Capture the beauty of Maui (above or below the sea) on a photo expedition.
Creating the Time of Your Life (Time Mindfulness)—
Time is the canvas upon which we create our lives. The Creating the Time of Your LIfe session offers you a perspective on time that will change the way you look at it, the way you use it and the way you track it. Utilizing the Spiral Labyrinth Calendar of the Year and circular daily pages for planning and recording your time in a way that accesses and utilizes BOTH the right and left brain is an infinitely more fun and memorable means of tracking your dreams, successes, and progress on the journey of life.
Soul Collage
 — A powerful mix of creativity, spirituality and psychology, this creative process of doing a soul collage and journal-dialoguing with different aspects of your self is a powerful tool for ongoing self-inquiry and discovery…and its fun, colorful and soothing to the soul!
Visual Journaling—The ultimate is creative self-expression. Our artist/practitioner will guide you to use images, collage, paint, stamps, and words to make your pages come alive. Express your heart through your art!
How to Prepare for Writing a Book, Giving a Presentation or Writing a Dissertation
 —Launching into a big project can be daunting. How do you start? How do you keep track of research? We will teach you a simple, yet immensely powerful method of preparing and delivering the final product. What better time than on a retreat!?
Creative Writing with an Emotional Twist —Capture your life memoirs, precious family stories and spiritual moments of serendipity and coincidence in writing to preserve or to publish. Discover Chicken Soup for the Soul style "secrets" of telling a story that packs a powerful emotional punch.
Only on Maui — In addition the Adventure in Awareness hikes, we also offer some magical experiences only to be found on Maui…
Maui Sacred Sites Tour—This can be one one day or the focus of a whole retreat. Learn about Hawaiian Spirituality, visit a sacred Heiau (temple), learn about the history of Iao valley, visit an ancient birthing pool with pictographs.  Get a Hawaiian Healing Session, or meet with a true Hawaiian Kahu. There is much more to Maui than the typical tourist would ever see…
Reveal your inner Mermaid!—Tell a real TAIL when you get home with the photos showing how you were transformed into a mermaid while you were on Maui. Our photographer provides the tail, coaches you on how to swim (or pose at the water's edge) and produces stunningly beautiful photos of you revealing your inner mermaid.
Dive Underwater and Within —We will take you on a scuba or snorkeling adventure to Molokini Crater. Molokini is a Marine Sanctuary with crystal clear waters and abundant sea life. Diving is a great metaphor for meditation. No matter what the surface conditions are, just a few feet below are calm and tranquil waters. Whether you are experienced or brand new, we can customize your  inner and under exploration!
Wedding Ceremony or Vow Renewal performed by Eve Hogan
Eve officiates simple, sacred ceremonies —whatever your hearts' desire, on a beach, in a labyrinth, on top of the mountain, beside a stream, on a hike, she has even performed underwater scuba weddings and weddings in the shark tank at the ocean center! Your special event  will be blessed from start to finish!
Maui Labyrinth Tour — Maui has several labyrinths to offer from church to hospital, under a kukui tree canapy to beside the sea, 7-circuit and 11-circuit.  Labyrinth Facilitator and author of "Way of the Winding Path" will personally lead you to some of Maui's most loved labyrinths.

Bring Eve and her Portable Canvas Labyrinth to YOUR Event!
Eve is a labyrinth facilitator with nearly 20 years experience and can bring the labyrinth to you. She has one on the mainland US and one in Hawaii, so let us know how we can serve your group or event. Of course, we are happy to provide labyrinth walks for your guests at The Sacred Garden labyrinth on Maui as well.
These specialty experiences are arranged by email or phone call: 808-243-7284
Train the Trainer — If you would like to add additional tools to your tool belt for helping others we have training and internship opportunities as well.
Labyrinth Facilitor Training—This is offered both to individuals who want to add labyrinth facilitation to their practice and as a group retreat. Eve has been sharing and utilizing the labyrinth for nearly 20 years and can guide you on how to use it as a spiritual practice, a relationship tool, a self-inquiry practice, a healing process, for intuitive enhancement and personal empowerment.
Teacher Training —Eve has a Master's Degree in Confluent Education, a teaching credential, is a Certified Jack Canfield Self-Esteem trainer, has 10 years of public school experience as teacher and counselor and 20 years running the Teen and Young Adult Program for CEO Space focused on personal empowerment and entrepreneurial skills. 
She can teach you or your staff how to transform the energy of the classroom—or the entire school to a more mindful, cooperative, collaborative and fun environment. She has personal stories and examples and will provide you with a myriad of ways to integrate self-esteem, mindfulness and successful principles into the school system. This addresses the bully problem and promotes peace in the schools.
Relationship Counseling or Coaching  — Already a counselor, therapist, or coach and want to add a deeper understanding of relationships to your tool belt? Eve has studied relationships for over twenty years and can offer a new perspective that will totally change the outcomes you get with your clients. This experience holds the capacity to improve your own relationships while you are at it!
Reiki Level I: Reiki is a transference of therapeutic energy that soothes, calms and brings a sense of peace on all levels—physical, emotional, mental and spiritual.
This is the basic level that allows you to transfer the Reiki energy to yourself and others.
Reiki Level II: This training further enhances the Reiki energy. This level allows you to access your own personal guides, teaches an introduction to crystal healing, manifestation grids. It also brings in the use of healing symbols, including anti-cancer, anti-viral, anti-bacterial, emotional, long distance, machines, meditation and many more.
Reiki Level III: This is the mastership level, where you learn the attunement process and passing the Reiki healing process to others. Through the completion of this level you become a master and teacher of Reiki.
Or Call 808-243-PATH (7284)