Spiritual Awakening Retreat (for individual or couple)
This is a sample itinerary…you can add or substitute from our Session Description list to personalize your retreat. This was created for five days, but can be done in a fewer or greater number of days.
Day 1:
10:00-12:00 • Orientation / Six Essential Life Skills 
In this session you will be introduced to the retreat experience, explained the process of personal growth and change, guided to set your intentions and to begin the process of letting go of that which is no longer serving you. You will be introduced to the six Essential Skills and practice them on a Labyrinth Walk for Self-Discovery and Self- Mastery.
 12:00-1:00 Time for lunch, walking the labyrinth or journaling
1:00-3:00 Insight Into Self

During this session we explore a deep understanding of the human spirit and the ego mind, and tools for accessing our authentic essence, inner wisdom and sense of self-esteem. It seems that sense self-esteem  diminishes over time such that by the time we are young adults many of us are essentially crippled by our negative self-talk, lack of confidence and the unconscious manipulative behaviors that ensue. This session will deepen your understanding and compassion for the human experience, provide a clear understanding of the ego's misguided attempts to protect us and teach you how to turn your self-esteem around. This session will both deepen your understanding of yourself, and anyone else you are in relationship with. This will begin-or strengthen- the journey of self-love and authenticity, which is the first ingredient to a harmonious, sustainable relationship.
3:30-5:00 Hawaiian Healing Massage 
Intuitive massage designed to release tension and emotions held in your body and leave you feeling uplifted and relaxed.
Day 2
8:30-10:00 Movement  (Choose One) 1.5 hr
QiGong:  Through healing techniques and movement, the healing secrets of China are revealed one slow, gentle movement at a time encouraging the free flow of energy throughout the body/mind systems. Sacred sound will be utilized to move "stuck" emotional energy and transform it to a free flowing, healthy condition. You will depart this session with a daily practice you can use for self-strengthening, raising awareness and healing. Suitable for all levels of Fitness.
Yoga:  Yoga is the path of self-discovery through movement, stretching and awareness. Not only will you learn or reinforce, the classic yoga poses for strengthening of body and soul, but also in the learn the power of chanting for guiding the mind chatter in the direction you want to go—toward awakening your Spirit. Suitable for all fitness levels and ages.

• Beach Walk
A gentle guided walk along one of Maui's most beautiful beaches while practicing awareness and mindfulness. Suitable for all fitness levels and ages.
Beach Walk:  A gentle guided walk along one of Maui's most beautiful beaches while practicing awareness.
10:30-12:00 Healing of the Deep Heart

Through a guided journey inward, this intensive will help you to heal old wounds that have become obstacles for you. You will lovingly be guided to seeing that which you need to see and reframing the circumstances of your life in a powerful way. This session awakens the high awareness of the heart for healing, clear insight and spiritual guidance.
Free afternoon for integration, rest, journal work…
Day 3
10-12:00 Deep into the Labyrinth 1.5 hrs While many understand the labyrinth as a walking mediation, the labyrinth is actually a rich field of metaphor for deeply understanding ourselves. It offers a mirror into which we can see ourselves and a blue-print for understanding the human spirit. Through a mix of information, a deepening perspective, the labyrinth walk and journaling processes, this promises to be a powerful experience.
 12:00-1:00 Lunch
1:00-3:00 Heart Path Meditation 2 hrs
Meditation is not a way of making the mind quiet, it is a way of entering the quiet that is already there. In this session, you will learn, easy to understand techniques that assist you in accessing your inner wisdom, intuition, and creativity. This ability allows you to make better choices, access peace and strength even in the midst of chaos, and align with your authenticity.
3:15-5:15 Creative Self-Discovery and Expression through Journal Writing
   Through a process of writing and drawing with the non-dominant hand, you will be guided to explore several different aspects of yourself and improving your access to your higher self where intuition, creativity, and understanding are sourced. This bypasses the ego mind and allows you to heal old wounds.
Day 4
8:00-2:00 • Land Medicine 
Sacred Journey into one of Maui's most powerful sites. An adventure in awareness and self-discovery Opportunities range from beginner to advanced fitness.
3:00-5:00 Intuitive Guidance and Energy Clearing
 — Receive direct guidance from your own guides and discover what it is you need to know. Our practitioner can access a council of guides, (hers and your own) and deliver their message to you to assist you in making sense of whatever is happening in your life and to make new choices if needed. Remove the veils between you and your guardians! Our practitioner follows the reading with energy work to clear any obstacles you may have that cause you to get stuck, assisting you in fully stepping forward on your own Heart Path with greater clarity and insight.
Day 5
9:-10:30 Movement  Choose One: Yoga, QiGong or Beach walk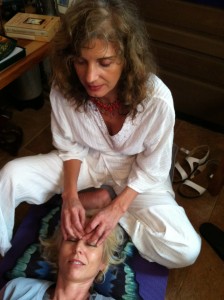 11:00-12:30 Integration 1 hr

In the integration session the practitioner will assist you in connecting the dots between all of your sessions to ensure you have a deep understanding of your experience, a practice, skills and tools for taking powerful and positive next steps on your journey through life. The process of change will be explained so that you deeply understand how to step back onto your chosen path when you have seemingly fallen (or been pushed) off. You will depart fully empowered to implement the experiences, insights and lessons from your retreat into your everyday life. The integration session is designed to assist you in pulling all the pieces of your retreat together and ensuring that you have a clear practice for maintaining your strength and balance when you get home.
The above retreat runs $3510 excluding accommodations. transportation and food. We can add accommodations for you from $125 a night to $375 a night depending on your needs. This is priced for an individual, if you want to do the retreat as a couple we would need to add another Healing of the Deep Heart, Massage and Intuitive Session plus a second person rate.  You can add additional sessions as you choose. Contact Us!
808-243-PATH (7284) • info@SacredMauiRetreats.com
470 Kaluanui Road, Makawao, Maui, Hawaii 96768
Please keep the time difference in mind if calling. Hawaii is 2-3 hours earlier than the west coast of the US and 5-6 hours earlier than the east coast.