Rejuvenate your Relationships
Soothe Your Soul • Heal Your Heart • Wake up your Spirit
Cure your Nature Deficit Disorder
Discover SOUL-utions to life's challenges.
One Session. One Day. One Retreat. All empower you to change your life.
All are available with Heart Path Journeys  •  Sacred Retreats on Maui and Kauai
Every retreat can be customized to as much or as little as you desire, We offer one session, one day, or a full retreat!
Our private, one-on-one sessions generally run between $195-$375 depending on the topic and how long (1-3 hours).
Accommodations are on a beautiful, gated, lush and tropical property surrounded by tropical flowers, fruits and a seasonal stream meandering through. You will have access to two walking labyrinths, meditation gardens and total tranquility.
Meals and transportation are not included unless by special arrangement. Additional sessions can be added (and substitutions can be made to meet your specific needs).
ALL retreats come with a Farm Tour, Farm/garden service opportunities, education on gardening and farming in Hawaii and the opportunity to experience local produce. It's all about GROWTH.
SOUL-utions Retreat Packages
Are you going through a major life transition? Are you grieving? Is your marriage teetering on the edge of divorce or needing rejuvenation? Are you seeking more clarity and meaning in your life? Do you crave spiritual awakening or a deepening of your practice? Our expert practitioners will lovingly guide you to heal, grow, love and thrive!
You are welcome to participate in a la carte sessions, a pre-designed retreat or a personally customized retreat. Here are some of our offerings:
Package 1: One Day to Yay! Perfect for those who only have one day available and want to dive deep fast. 1 full day of healing, growing, learning, and relaxing. $775-995 (depending on your options) Half days and individual sessions are also available.)
Package 2: Jump Start! Perfect if you are new to personal growth or just need a renewal! This core retreat will jumpstart your healing, and provide you with greater clarity and a practice for self-mastery. $2975 plus tax 4 nights, 3 days of private retreat sessions, Virtual Retreat Video home study series, private accommodations and follow up phone or Skype session.
Package 3: Soul-ution Essentials! Reboot for the Body Mind and Spirit!  Seeking clarity and growth? Going through a transition? Just been through hell and back? This essential mind, body, spirit retreat will give you a powerful understanding, skill set and abilities to heal your relationships, access the Soul-utions with in you, make peace with your past and step boldly into your future. $5045 plus tax six nights, 5 magical days of private retreat, Virtual Retreat Video home study series, private accommodations and follow up phone session Add a second person for $1745. )
Package 4: Soul-utions for Relationships! Whether your relationship just needs a tune up, an overhaul or a major renovation, we can assist you! Healthy relationships are a priority to all of us but none of us have been taught how to create them and maintain them. This retreat will open your eyes and your heart. For couples $4850 plus tax or $4150 for individuals. Includes 4 days of private retreat sessions, Virtual Retreat Video home study series, six nights of private accommodations and follow up phone session
Package 5: Feel to Heal—Life after Loss Retreat. This retreat is all about emotional healing from loss and trauma—grief, divorce, being laid off, recovery from a tragedy. There really is no way out but through…but once you have gone through the eye of the needle you will come out the other side to live, love and laugh again. $5335 plus tax includes 5 days of healing sessions, 7 nights in private accommodations, Virtual Retreat Video home study series and follow up phone session.
Heart Path Journeys offers sessions and private retreats for individuals, couples, families and small groups on personal growth, relationships, healing, spirituality, self-mastery, and wellness, on the beautiful islands of Maui and Kauai, Hawaii. Both islands offer a diverse and beautiful backdrop for growth, health and wellness. Hawaii is known as a world-class beach destination, but many are unaware of the immense beauty that awaits just off the beaten path.
Go into the heart and soul of Hawaii—to awaken your own heart and soul—guided by Eve Eschner Hogan and Heart Path Journey's hand-picked team of excellent practitioners.
Rather than coming to Hawaii when we offer a retreat, we offer private retreats whenever you can come to Hawaii…all year round.
 Call NOW to begin your journey: 808-243-PATH (7284)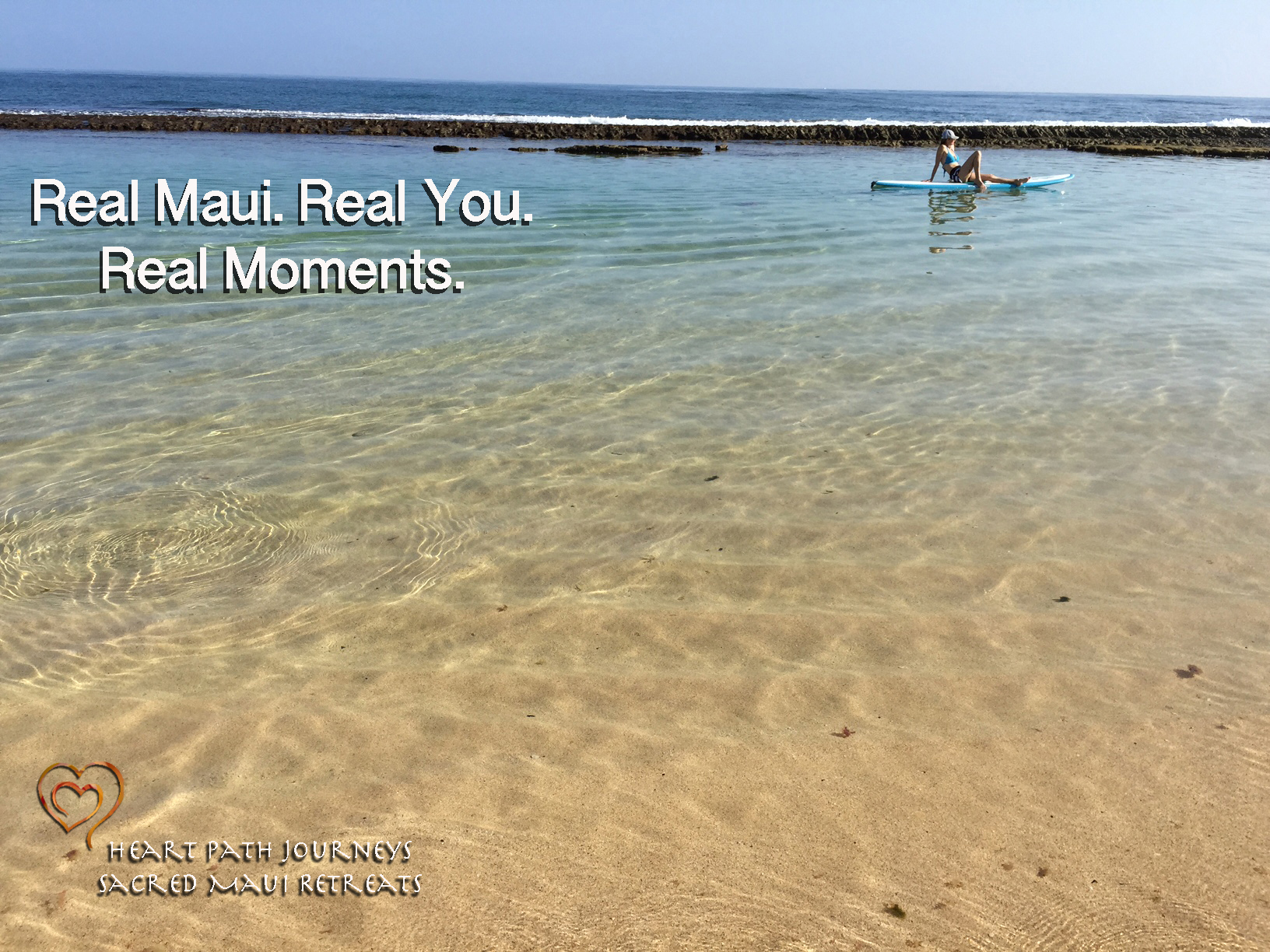 We offer personalized, private retreats for individuals, couples, families, teams and small groups. We work with you to customize the perfect retreat tailored to your budget, your timeline, your needs and interests.
• Relationship, Marriage, Premarital, Honeymoon (Singles or Couples) Retreats
• Spiritual, Personal Growth, Labyrinth, Meditation Retreats
• Wellness, Yoga, Fitness, Adventure Retreats
• Renewal, Relaxation, Spa Retreats
Mix and Match from our sessions to perfect the exact retreat for you!
Not able to participate in an entire retreat?
We offer individual a la carte sessions as well!
Look at our list of Session Descriptions and let us know how we can help you!
Virtual Sessions
Not visiting Maui but still want help, growth, clarity? We offer many of our sessions virtually via phone or Skype!
Look over our Session Description list and let us know if there is a session that calls to you.
We also have DVD's of several of the sessions so you can take a virtual retreat from home, study in advance of coming on retreat or review from the comfort of home.
Maui is home of some of the world's most gifted psychic intuitives and healers.
They are available for private sessions in person or via Skype or telephone and can give you guidance, help you identify your soul's purpose, share insight and perspectives to assist you on taking powerful steps on your life's journey.
Whether you seek health and wellness insight, emotional release, messages from a passed loved one, an introduction to your angel guides, validation of your own intuition, guidance for making clear decisions or the ability to understand your dreams, our intuitives are here to guide you.
Kauai Retreats
Private Retreats on Kauai!
We are now offering private wellness retreats on the spectacular island of Kauai as well as Individual Sessions on
• Hatha Vinyasa Yoga
• Energy Medicine
• Mana Lomi Massage
Call 808-243-PATH (7284) and allow us the opportunity to build your Sacred Kauai Retreat!
Eve Hogan
Eve Eschner Hogan, owner of Heart Path Journeys, is an author, speaker, and revered spiritual leader. She is the writer of the Real Love Blog and the host of the Love Well Podcast for Spirituality and Health Magazine.
Her work bridges the gap between the head and heart so the two work in alignment instead of opposition. By offering skills and tools, sharing stories and wisdom, Eve will guide and empower you to master your self and your life—joyfully.
Eve will work with you to create your perfect Sacred Maui Retreat itinerary.
Eve is also an avid photographer and the majority of the pictures on the site were taken by her …real people, real retreats.
"Incredible journey. The sacred garden is an amazing place to visit. My husband and I attended a retreat with Eve, she is an incredible teacher and has changed our lives in so many ways. We will be going back as a family in the near future. For any couple contemplating relationship retreats, Maui Is an incredible place to visit and Eve Is a fantastic educator."
Kathleen
"We had a wonderful day retreat. Eve, Larissa, and Hoku were amazing. We both felt lighter after we left and received a lot of clarity. I'm excited to practice what I've learned. Thank you very much for the best experience we've had in Maui… And in life! :)"
-A and D, Los Angeles 2015
"Eve Hogan is extraordinary as a relationship consultant. She brings not only a joyful, full-of-life, huge smile personality, but vast pragmatic experience, meaningful stories and examples that all can relate to, and a command understanding of her relationship consultation specialty. I would highly recommend Eve and her staff at Heart Path Journeys on Maui to anyone who may need some fine tuning. It will be the time of their life."
Gene Backus
"Last week my husband and I were working on our divorce, planning out how to separate our finances, and then we had a two-hour session with Eve. It was powerful and amazing. Now we are working on our marriage."
— J and A, Maui
For more testimonials click here